Posted by Krista on June 17, 2008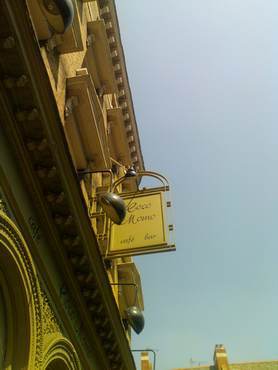 Coco Momo
79 Marylebone High Street
W1U 5JZ
Tel: 020 7486 5746
Date of Last Visit: Sunday, June 8
The Victims: Al, Oscar Rutton, Richard
The Damage: £15 or thereabouts each
The Background: It is just so very lovely Sunday that we must get out and go somewhere. We debate a picnic in the park but Rutton wisely decides that buying all the stuff will be too much work. So instead Richard suggests Coco Momo, right on Marylebone High Street.
I am late–I've been with the accupuncturist, my new addiction–and I'm feeling very light-headed in a good way as I slowly make my way around Marylebone to meet the boys. I approach from the west and run smack dab into them, sitting at a sunny table on the pavement, looking very 2008 with young Oscar in tow.
The Food: Salads for all of us. Nice salads. Very refreshing and relaxing and perfect for a day like this when all you want to do is sit and have something light and get a little color. After lunch, we buy some ice cream and Pouilly Fuisse and lay around Regent's Park for hours, playing backgammon and watching Oscar push his pram around.
The Verdict: Nice. 
Posted in Bar Food, London, United Kingdom, W1 | 1 Comment