Posted by Krista on July 12, 2012
Traveling by yourself for business can be terrible at times. Even more terrible if you are staying in a hotel that has no creature comforts, no public spaces, nothing to keep you amused. At the end of my stay at The Staybridge Suites in Itaim, I was ready to pull my hair out. I was bored, and there was nowhere to go. I am not one to hang out alone in my hotel room, and Sao Paulo is not a city for walking. I need a hotel with public spaces and access to nice places.
So towards the end of my last Sao Paulo sojourn, I decided. I would upgrade myself on my last night. Big time. Big Big Time. Through Jetsetter.com, I found a "deal" on The Hotel Emiliano, and I did it. I booked it. I cringed. But I dd it. Although the price did make me wince. And wince again. A LOT.
But after five hours in Sao Paulo's traffic on a Friday night between the hours of 3 pm and 9 pm (you really do not want to know), I am so glad I did it. Because I got there, and there was this…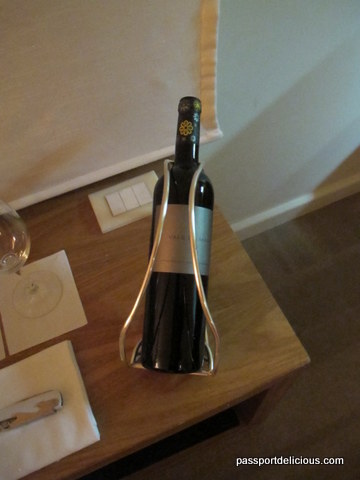 FREE WINE! Well, let's not think about how expensive this wine really was, given the price of my hotel room. But I like to think it was free.
Ah, and then there was this…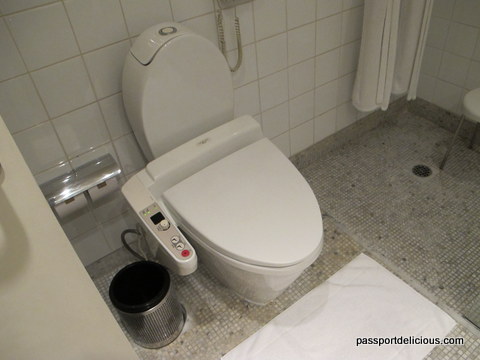 One day when I have the millions I deserve, I too will have a Japanese toilet in my house. I mean, I don't mean to get all scatological on you, but words cannot describe the wonder and beauty of a Japanese toilet.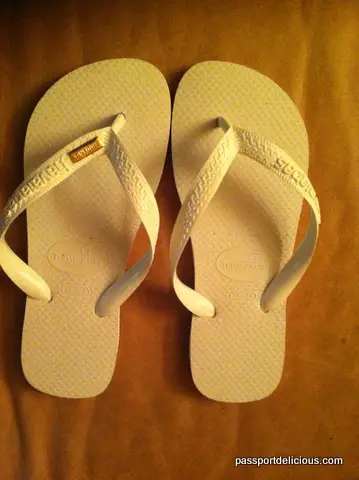 Also "free"? White Havianas, with the Emiliano logo on them. Two pairs! The other pair was huge, but luckily I have some friends with very large feet.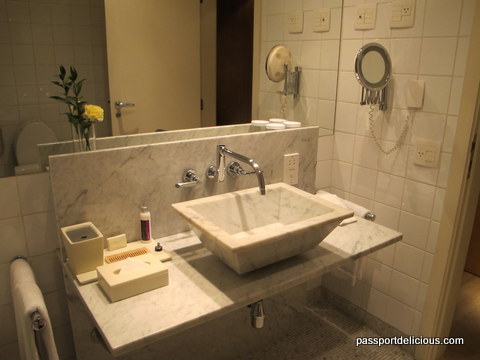 Back to the bathroom. Gorgeous. All that marble. And the bath products! Rest assured, I took all of them with me when I left.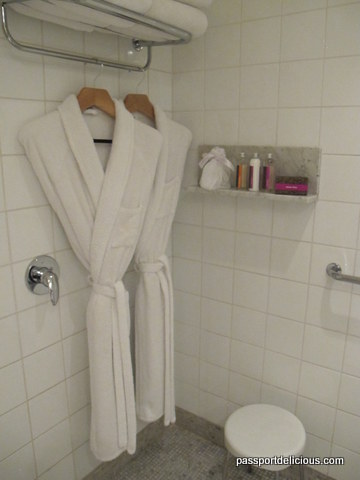 There was much showering and much lounging around the hotel room. I think I took three showers in the short 15 hours I was there. The shower was big enough for many.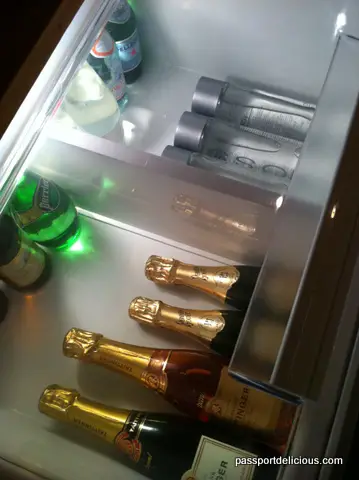 Hello mini bar. I think I LOVE YOU. LOVE YOU LOVE YOU LOVE YOU. Champagne and water, my two favorite beverages.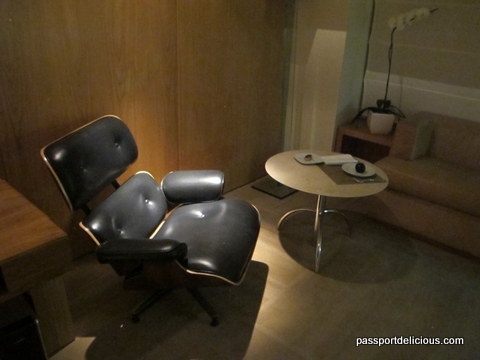 Yes, I might have drank some free wine in my free Havianas and then sat in my Eames chair in my bathrobe.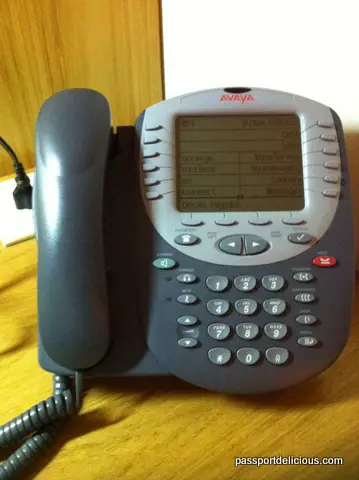 But this phone!! It reminded me of being at work. Bad phone. Bad. Where's my wireless headset???
The only thing I didn't really like about the Emiliano was the food. I ordered room service for dinner and it was distinctly unmemorable, except for the part where they got my order wrong. (Tomato salad? I am 500% positive I did not order that.) For breakfast the next morning, they got my order right, but my omelet was just so very average, and they charged me something like $12 just because I said "yes" when they said "Would you like milk with your coffee?" (I did want milk, but not a f*cking PINT.) Also, at the bar on the ground floor, there was one cock-up after another with both my drink and my food order. (I swear to God I never said, "I'd like ten sardines on ten toasts," I promise.)
But other than that, it was a tremendously lovely and tremendously nice stay. I am just sad that I was so focused on feeding myself and availing myself of the bath products that I never did get my complimentary 15-minute massage.
Must go back then. You should too, if you can swing it.
The Emiliano is located in Jardim Paulista in Sao Paulo on Oscar Freire. It is very fancy. And very expensive. I think it's the most expensive hotel I've ever stayed at in my entire life. Somewhere around $750 USD. GAH. Yes. But I needed it. And yes, of COURSE I paid for it. In its entirety. Personally.