Posted by Krista on May 14, 2012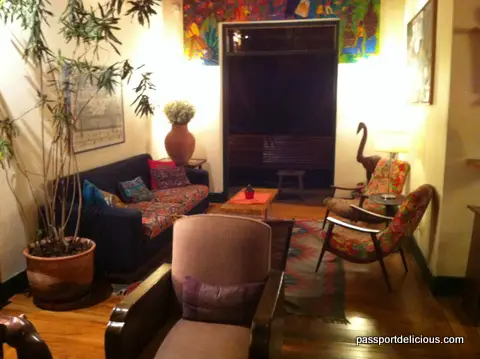 Back to Brazil  in March. I like the food in Brazil. (Name me a country where I don't like the food! I am too easy. But I do really like the food in Brazil.) Here's where I ate and drank.
Living Lounge Bar & Sushi, Renaissance Hotel, Jardins. The sushi here was very good, but it was the staff that got me smiling, plying me with free treats even though my basic sushi set of the usual suspects was really enough for two people. The Verdict: Not a destination, but convenient for the business traveler.
Figueira Rubaiyat, Haddock Lobo, Jardins. My colleague Paul and I dropped in here for a late lunch and boy, were we disappointed. Can I say RIP OFF. Ridiculously expensive for what I can only call "wedding buffet food." Without the buffet. My fish was overcooked but really, it was the price more than anything that galled me. I think we paid something ridiculous like $40 each for our entrees. That being said, the bar was nice and I would go to the bar again. The Verdict: Skip it. Yes, even if it has a big tree and it's in all the guidebooks and you can sit outdoors and everything.  SKIP IT.
Margherita's, Alameda Tiete, Jardins. We loved the pizza, the service, and the big convenient buckets of beer at this crowded and lively Sunday night spot. (It's also open the rest of the week, but Paulistas like their pizza on Sunday nights.) The Verdict: Fun. Go.
Cantina do Piero, Haddock Lobo, Jardins. Right across from the Renaissance. My colleague and I split a quick lunch here before heading to the airport for Rio. Sao Paulo is expensive, bu this place was super-expensive and really, all we had was some pasta in tomato sauce. The servers were of the handsome older variety, which I like. And really, the food was simple and good. But the price kinda killed me. The Verdict: Not a must, but convenient if you're staying at The Renaissance.
Oba, Rua Dr. Melo Alves, Jardins. My Brazilian friends Nerone and Ellen (who I first met in Chicago many years ago) took me to this gorgeous restaurant in Jardins for an extremely lovely dinner. The food is meant to represent Brazil's diverse cultural influences. The menu, which changes frequently, was somewhere in between Mexico and Thailand when we visited. I loved my tacos and I just loved the overall vibe and feel of the place. (That's Oba in the photo above.) The Verdict: Go.
Lellis Trattoria, Av Campinas, Jardins. Nerone and Elen didn't entirely want to go here because they had just been, but I had a flight to catch and we couldn't get into anywhere else in Jardins. (Saturday lunchtime, apparently very popular.) I loved the handsome older waiters and the tile walls and just the old-school vibe of the place. Also loved our food. Elen warned me that the portions would be huge and I should have listened. We started with a basic salad, dressed perfectly, and then I ordered some fish and broccoli which was deceptively simple, but oh so good. (In contrast to Figueira, where the food was simple, but bland.) In short, I really liked it here. It's not trendy or sceney — it's more the type of place where you'd do a family lunch — but it's very very good. The Verdict: Go.
I am back to Brazil shortly, so there's more to come. Plus, I still need to tell you about RIO.