Posted by Krista on August 15, 2011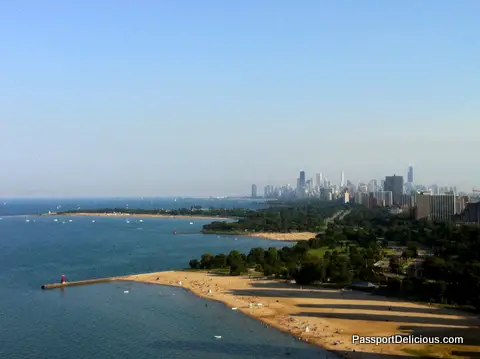 Recently, I turned the tables on Joe Campagna — aka Chicago Food Snob — and asked him a mash-up of the 20 questions he's been asking chefs around town for the last few months. Actually, I couldn't keep this to 20 so you're getting 25 instead. Turns out…Chicago Food Snob is NOT A SNOB! He does watch a lot of sports though.
Name: Joe Campagna
Occupation:  Entrepreneur
Married? I've never bought an engagement ring.
Kids? None that I'm aware of.
Age: 37
From: Park Ridge
Knife Hand:  Right
Twitter Handle: @chifoodsnob
URL: http://www.chicagonow.com/chicago-food-snob
1. Nickname?
Chicago Food Snob (CFS): I do.
<silence>
Krista (K): Are you going to tell me?
CFS: When I was a freshman in college, I was 17 so I was still very young and did not look my age. I looked younger. So it was "Sweet Pea" which morphed into Pee Wee and later became just P. Most people didn't even really know my real name until my senior year in college.
K: So this Pei Wei thing is pretty funny for you then?
CFS: it was meant to be.
2. What's the last meal you made for yourself?
CFS: On Sunday, I made pasta and meatballs.
K: What type of pasta?
CFS: Rigatoni.
K: What brand?
CFS: Barilla.
K: Good choice. What was in your meatballs?.
CFS: Half lamb, half veal,  breadcrumbs, garlic, onion, salt, pepper, parsley and one egg .
K: So do you just make meatballs for yourself?
CFS: Yes. I make meatballs for myself. <pauses> Actually, let me change my answer. I was not dining alone. I did not dine alone.
K: Interesting that you forgot your dinner companion already.
CFS: I didn't realize you were being specific. Are you writing all that in? Because I was confused by the question
3. Place you eat most often on days off?
Chinese on Friday nights when I stay in. A place called China Dragon in the West Loop.
4. Favorite ingredient to work with?
Risotto.
5. If I gave you $5,000, how would you spend it?
I would probably go to Italy and stay as long as I could. The south. Into Naples and Siciliy because I haven't been yet. Maybe finish up in the Lake District.
6. First word that comes to mind when I say Michelin?
Bourgeois.
7. What's the last charity event you did?
CFS: I don't go to too many anymore because I used to work them. But now I'm pretty involved in the local chamber out where my business is. I'm pretty involved in the stuff that goes on and the projects and stuff.
K: That sounds very mysterious.
CFS: That I'm on the board of directors of the local chamber of commerce? I sound like Ward Cleaver!
8. Last weekend on earth – what city are you eating in?
Chicago.
9. Why don't you work with food anymore?
CFS: The biggest reason is because of the life balance. Having worked in food for eight, nine years and working those hours. it's nice now to have a balance and have a social life and be able to go out on a date and not have my iPhone out. It would be hard to go back.
K: So you never keep your iPhone out on the table during dinner?
CFS: No.
K: Careful. I'm going to watch for this now.
10. What did you want to be when you were five? When you were 13?
CFS: Professional athlete. Ice hockey. I always wanted to play sports. But when I was in 13, I wanted to go into the military and become a lawyer. Become a judge advocate for the Marine Corp.
K: So were you watching a lot of JAG or something?
CFS: I actually did not watch a lot of JAG.
11. Most exotic vacation destination that you've been to?
Tahiti.
12. If you left Chicago for somewhere else, where would you go?
CFS: What like permanently? Like retirement?
K: Yeah…Isn't this your question?
CFS: If it was retirement, probably somewhere like Arizona so I could play golf.
13. Person you would most like to cook for?
Both of my grandfathers who passed away. One I never knew, the other passed away while I was finishing college so he never knew me as a chef.
14. What's new on your DVR?
A lot of Burn Notice and White Collar…it's on USA…a con-man type of show.
15. So, how many hours a week do you actually spend watching sports? Seriously.
CFS: During the season or like now when there's nothing on but the Women's World Cup? Is it during football season? Wow…this is going to make me look pathetic. probably 20? You've got college football, pro football, hockey…
16. Flight to Copenhagen and dinner at Noma or Superbowl tickets?
CFS: Definitely Copenhagen.
K: You're sure?
CFS: Yes.
K: Coach tickets?
CFS: What…do I have to fly there and not use my status?
K: Back of the plane, dude.
CFS: Where's the Superbowl?
K: Arizona.
CFS: Are the Bears playing?
K: Yes.
CFS: If you're putting it that way…shitty status, Bears in the Superbowl, warm city…then I'm going to the Superbowl.
K: What if it were Copenhagen in summer?
CFS: If it's nice weather, then I'll take Copenhagen.
17. If I remember correctly, you've admitted to eating in your car a lot.
CFS interrupts: I try not to eat in the car a lot.
K: Right, but this implies an affinity for fast food, which would be somewhat of a departure from your online persona as the Chicago Food Snob. Explain.
CFS: I have never said fast food is bad. I have actually been on the radio extolling the virtues of the Mexican place on Ashland and Fullerton–Taco Burrito House. I eat in the car usually during the week when I've not had lunch and it's 2 or 3 pm and I'm driving back into the city…it's a last resort. It's not like I announce,"I'm going to Wendy's today!" It's more like when I haven't eaten, I'm starving, and I  want to get hell  home.
18. Guilty pleasure?
Expensive wine
19. When you were a child, the food that your parents could never get you to eat…
CFS: Liver & Onions.
K: And now?
CFS: I do not like raw button mushrooms in salad.
K: Me either!
CFS: I like expensive mushrooms. I can't eat shitty mushrooms.
20. I know you have a lot of pet peeves. How many do you have? Seriously.
CFS: The list constantly grows. I'm a very particular individual.
K: What's the biggest one?
CFS: Chefs who say they only cook seasonal dishes. Because it implies that everyone else is using spoiled, unseasonal food.
21. Karaoke song?
Anything Niel Diamond. Particularly Sweet Caroline.
22. Fill in the blank…Most Chicago restaurants need to…
Gut reaction is "use salt." But I also think they need to work on technique.
23. Fill in the blank…The last meal I sent back was…
CFS: I've never sent a meal back.
K: That's not very snobbish of you.
CFS: No. I won't finish it but I won't send it back.
24. Fill in the blank…restaurant bloggers are…
How do I put this…typically have never worked in the industry.
25. Favorite Chicago restaurant blog? No pressure or anything.
CFS: Aside from PassportDelicious…Elizabites.
K: That's it. Those were all my questions. Thanks for your time!
CFS: I'm a little nervous about how you're going to write-up the meatball question.