Posted by Krista on February 26, 2011
I need a desk. I sold my old John Lewis stalwart to a co-worker before I left London. And as much as I do love blogging from the kitchen island, I really need my own space. And six months after repatriating, it's time to unpack the, um, office. (It's functioning as a closet currently.) CSN Stores (every bloggers' favorite website these days) is going to love me because four of the five desks I like are on their Web site. (Along with pretty much everything you might ever want to buy.) Note I am NOT participating in a CSN giveaway this time around. It was just very convenient that they have a lot of desks I like!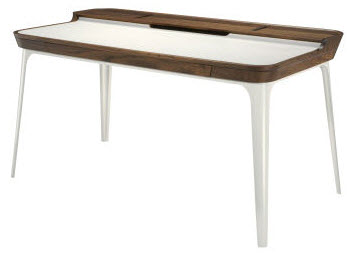 This is the Aria desk from Herman Miller. It's very handsome. It's also very large and very expensive. But I still like it and I am thinking of this whole desk purchase thing as an investment. I'm looking for a desk for life.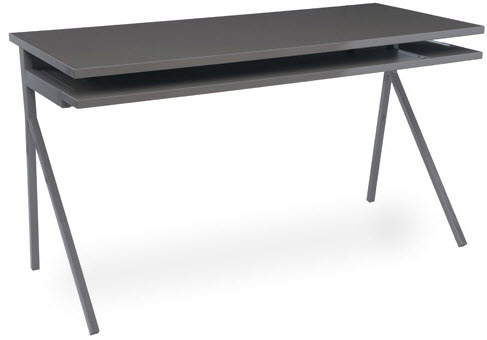 There's something nice and clean about this design. It also comes in reddish-orange and white. I'm liking the gray but sometimes I like the white. Too plain? Too boring? This is by Blu Dot.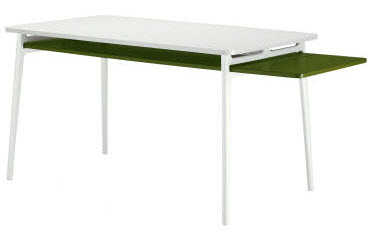 Another Herman Miller choice. This one is called the Enchord. I kinda dig the green under-table. But maybe I'll feel too much like a Swedish architect?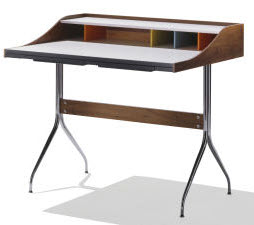 Um, so apparently I have a thing for Herman Miller. I like the slots in this one. I don't know what I'd put in them, but I like them just the same. I also like the dainty legs and the use of color. This desk is called Nelson. It's a happy desk, isn't it?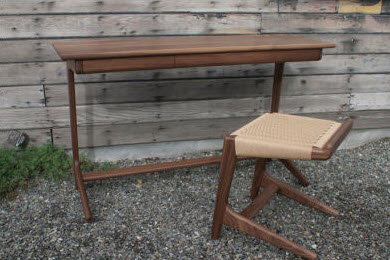 This desk is called the Rian and its made by a small company called Semigood Design in Washington State. (Someone obviously has some confidence problems?) I might get the chair–only because it's cute–but I don't think I could use it for working. I need a chair with a back. I like that this has drawers and there's just something very clean and neat about it.
What do you think? Which one do you think I should buy? Comments please!