Posted by Krista on February 13, 2011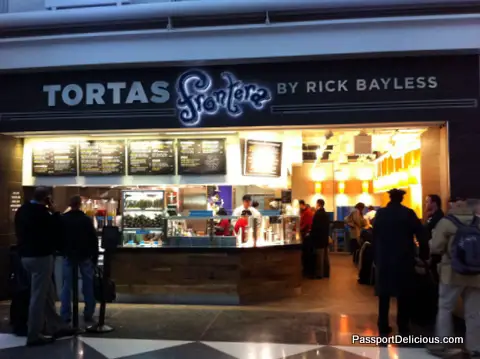 Tortas Frontera
O'Hare International Airport
Terminal 1 (the United terminal) by gate B11.
Chicago
Date of Last Visit: Tuesday, February 1, 2011
The Victim: Me
The Damage: $10 (Surprise, surprise! Another $10 sandwich!)
***Welcome! A lot of people find my blog by Google-ing some combination of Tortas Frontera O'Hare. So here's what you want to know. If I've helped you out, please consider becoming a fan of my blog on Facebook.***
United Terminal 1, Gate B11.
American Terminal 3, Gate K3.  
The Background: Tortas Frontera. Here's what happened. On Tuesday, February 1, 2011 I attempted to fly from Chicago to Tel Aviv via Frankfurt for work. Tuesday, February 1st, if you remember, was the Day of The Snowpocolypse. I woke up that morning pretty much assuming my flight would be canceled. But no, despite obsessively checking the United Airlines and Lufthansa Web sites every 10 minutes, I was still scheduled to depart at 3:45 pm.
Not believing my good fortune, I headed to O'Hare and stopped for a sandwich at Rick Bayless' new place before settling in at the new Red Carpet Club at B17.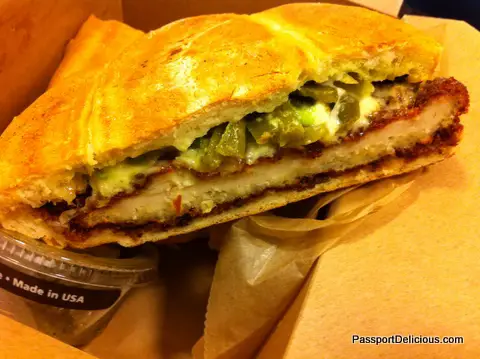 At Tortas Frontera, I opted for the Chicken Milenesa, which was a fried chicken breast, black beans, pickled jalapeños, Chihuahua cheese, cilantro "crema" and avocado. And you know what? It was MASSIVE. This photo really doesn't do it justice. I honestly think they should sell half portions, because America, this is really why you're fat.
Was it good? Yes, it was good. It was a nice combination of flavors and textures and overall, it was enjoyable. (The chicken was a bit dry though.) Was I dying over it, like I did at Grahamwich or Butcher & Larder or Hannah's Bretzel? (All places that boast their own $10 sandwich.) No, not as much, and it's always a bad sign when I leave half of my sandwich behind. That being said, I'd probably eat here again over the other food options in the B Concourse of Terminal 1. (Although I do always have a soft spot for the Billy Goat.)
What I loved about the crowd is that nearly half of the customers were airport employees, perhaps a combination of the impending blizzard leaving many with nothing to do, as well as the fact that a new place had opened in O'Hare and they all wanted to check it out.
What happened next? I think you can guess. I got on the plane at 3 pm and looked out the window and saw this…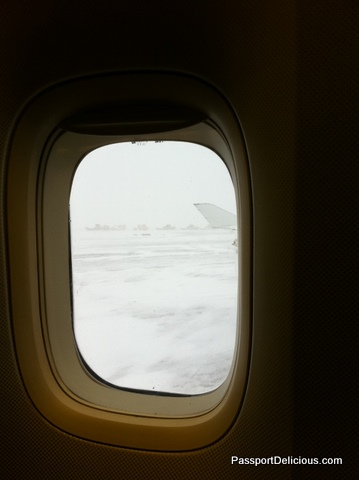 See those things in the distance? They're SNOWPLOWS. I counted 12 of them. We lasted about 45 minutes on the plane before the Captain asked us to get off. Then we stood around for ages (until 5:10 pm) until this guy from Lufthansa finally came to talk to us. Handsome older man, isn't he? He seemed quite fit.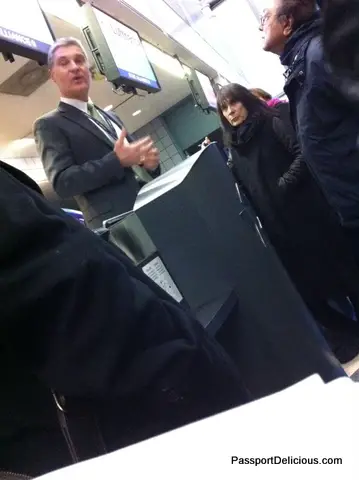 Then we went and waited for our luggage. This took FOREVER. The timestamps on my photos say we were there until around 6:15 pm, by which point I had already adopted a 16-year-old German exchange student named Timo who had no place to sleep for the next two nights. I took him home with me. Seriously. He played a lot of Call of Duty and we watched The Town, Let Me In, and The Social Network.
I never did make it to Tel Aviv. All the flights were canceled on Wednesday and if I had gone to Tel Aviv on Thursday, I would have only gotten there on Friday which would have been pointless. (In Israel and the rest of the Middle East, the weekend = Friday/Saturday.) So I rebooked directly to here on Thursday and finally made it around 6:40 a.m. local time Saturday morning. (8:40 pm Friday night, Chicago time.) I give you Burj Khalifa, the tallest building in the world.  The End.