Posted by Krista on December 13, 2010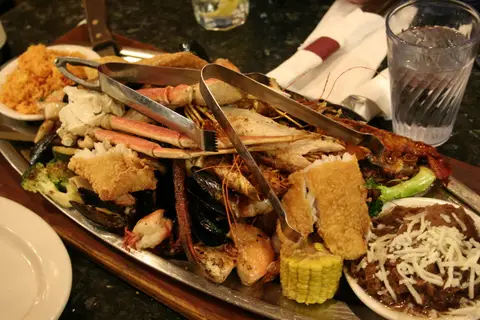 El Barco Marisco
1035 North Ashland Avenue
Chicago
Date of Last Visit: Wednesday, November 17th
The Victims: My good friends Matt and Kim who were visiting Chicago, along with an assorted cast of characters.
The Damage: $40 each or thereabouts.
The Background: The best part about being back in Chicago is getting to see people I wouldn't have had a chance to see otherwise if I still lived in London. Matt lives in Minnesota and sells boats for a living. That's not going to send him to London very often. Kim I actually did see a few times in London, but the visits were few and far between. But here they were BOTH in town at the same time and as our table for dinner gradually expanded to eight people, I went in search of good and inexpensive group dining in Chicago.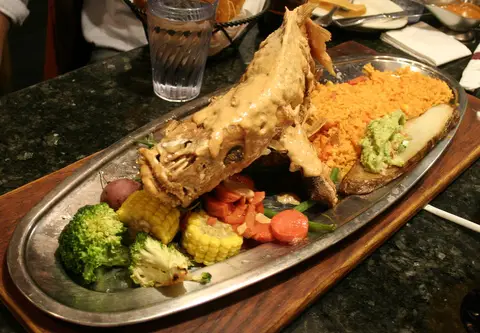 I think the photos say it all. El Barco (as the locals call it) is good for groups because the restaurant loves to serve big platters of seafood. Their paradillada (the first photo) is full of everything, including chicken. But you know what?
It's all pretty sh*t.
Undercooked, overcooked, over-salted, under-salted…you name it. (This must be why they keep so many hot sauce jars and limes on the table. So you can add your own flavor or mask their mistakes.)
That being said, the fried fish of indeterminate origin in the paradillada…that was good. (Frying covers up a multitude of sins.) And the refried beans. The beans were also good. As you can tell from the second photo, we also had whole fried snapper. Yes, it tasted as bad as it looked. But I liked the broccoli. It's hard to mess up broccoli.
When we left, we all smelled like cooking oil. Uggh.
The Verdict: Everyone loves this place. They must not get out much. Never trust a restaurant shaped like a boat.