Posted by Krista on September 8, 2010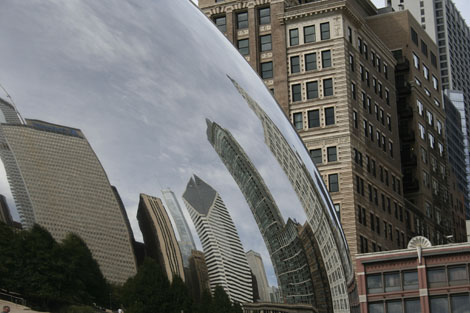 Even though I lived in this city for eight years before I moved to London in March of 2004, I still need to rediscover it. So much has changed! For example, the 2nd tallest building in the U.S.–the Trump Tower–was constructed in my absence. Talk about a different skyline!
For me, there's no better way to learn about a city than through its bloggers. So I've been valiantly Google'ing away, trying to find some of the best Chicago blogs. Now here's the rub. There's this perception in the U.K. (or in London at least) that blogging is much more popular in America. (Look at Mommy Bloggers, in particular.) So I expected to find an abundance of high-quality blogs here in Chicago. I've found a few, for sure, but I must be looking in all the wrong places because there just aren't as many as I would have hoped. So I need some help. Know a good Chicago blog? Do you follow a plethora of Chicago bloggers? Please tell me by leaving a comment!
Plum & Radish: A girl after my own heart! She writes about food. And bicycles! (She just bought a Pashley–a UK bike no less! And I just bought a big Dutch bike right before I left London.) And photography! All around Chicago.
Let's Go Ride a Bike: Two gals, one in Chicago, one in Nashville, writing about biking in their cities. Lovely photographs. I CANNOT wait until my shipping container arrives and my two bikes get delivered.
Chicago Gluttons: A Chicago restaurant blog. Would love it it was updated more frequently. Their latest review–The Girl and The Goat–is the restaurant that everyone in town is talking about. I tried to get a booking but the only tables available are at like 4:30 pm. (Welcome to America, folks. Yes, we sometimes eat dinner that early.)
Chicago Bites: Another Chicago restaurant blog, but this time with podcasts! (Although I don't see any recent podcasts. Maybe I'm not looking hard enough though.) Good use of whitespace. A very clean and neat blog. I'm hoping to meet up with these gals soon as we've corresponded in the past.
312 Dining Diva: I'd compare Audarshia's blog to Guide Girl's site, but with more frequent updates. She's got the inside line on everything going on food-wise in Chicago.
The Chicago Bucket List: A relatively new blog, but a city explorer like myself. Check out the full list of everything he is trying to accomplish. (At least, I think he's a he.)
City Girl Chicago: Part food–both restaurants and recipes. Part blog about things to do in Chicago.
So if you know of a good Chicago blog–whether it be your own or someone else's–please do let me know by leaving a comment as soon as you can!