Posted by Krista on July 20, 2010
Date of Last Visit: Friday, July 2, 2010
The Victims: The lovely Nicole and and the lovely Liz from The Good Food Guide
The Damage: Unknown. They paid.
The Background: I've been traveling a lot lately. This has put a significant dent in my social life. Let's just say that Nicole e-mailed me in April about meeting up for lunch and the first date I could commit to was in July.
Really, my life is not that exciting.
Nicole and Liz work for Which? and specifically, The Good Food Guide. This was a nice opportunity to have lunch with some like-minded folk and talk shop. Even if it did take us three months to get together. (My fault entirely.)
The Entrance: If I were More, and if I were located across from More London–the big development of offices and shops–I would not name my restaurant More. Nicole and Liz spent ages waiting in the champagne bar across the road–also called More–until they realized they were in the wrong place. Apparently, this is not the first time that guests of More (the restaurant on Tooley Street) have been so confused.
But we all found each other eventually and settled in to enjoy our meal.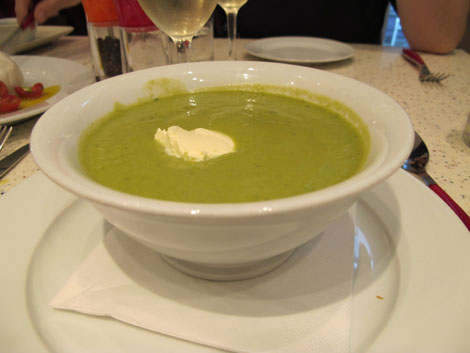 The Food: I ordered the pea soup to start. I swear that the menu did not mention that it was a cold pea soup. Well, it was. Have you ever had one of those Covent Garden soups out of the box without the benefit of a microwave? (Accidentally, of course.) Yes. That's how it tasted. And it was HUGE. Really, there's only so much cold pea soup a girl can take. Plus, it needed salt.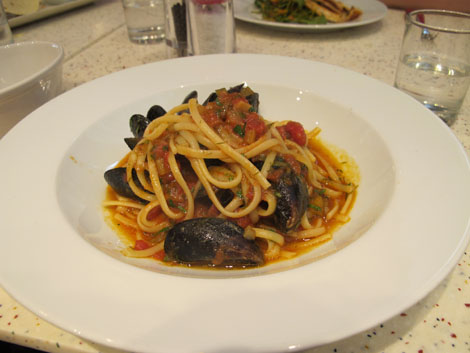 I had the seafood linguine as my main. Although it was relatively generous with the seafood, it was swimming in oil. I should have taken an after photo.
The Service: Took my not-empty wine glass away not once but TWICE.
The Atmosphere: I liked the design. It was clean and simple and uncluttered. And with the bar area up front, it would be a good place for the solo diner. But it was HOT. So hot. There was a patio out back, but the door remained firmly shut during our visit. I could have used some fresh air.
The Verdict: Really lovely company and conversation and a very nice afternoon out. Food just okay.