Posted by Krista on June 14, 2010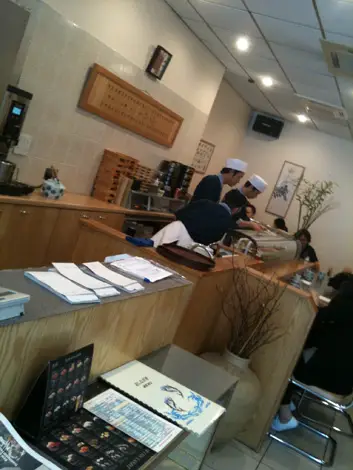 Sushi Hiro
1 Station Parade
Uxbridge Road
W5 3LD
Date of Last Visit: Saturday, May 1, 2010 (Sorry, I'm more than a bit behind these days.)
The Damage: £18 or thereabouts
So I've finally beent to Sushi Hiro. You know…that mysterious place in Ealing that everyone raves about. The place that always looks like it's closed. (They really need to ditch the sex shop frosted glass windows.)
And you know, I learned some things. Yes, even after doing this gig for nearly six years now, I'm still learning things. "Gullible," you might know, is not in the dictionary.
It's entirely possible to walk into Sushi Hiro on a Saturday afternoon without a booking. I did. And I got a seat at the bar.
You can pay by card at Sushi Hiro. Really. They don't mind.
Even if they look closed, they're not. Try the door, really.
I also learned that at the end of the day, sometimes sushi is just sushi. Even if it's all the way out there in Ealing.
The Verdict: Sushi Hiro fans might kill me, but I didn't find Sushi Hiro worth the special trip. (Except maybe if you're going to Boden, like I was.) I like Kikuchi and Chisou better.