Posted by Krista on April 22, 2010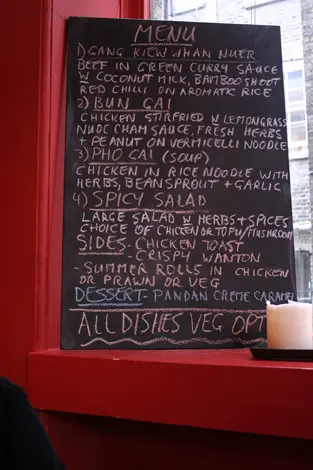 Monsieur M

80 Old Street
EC1V 9LT
Date of Last Visit: Monday, March 29th, 2010
The Victims: Fellow London food and restaurant bloggers Alice and Mr. Noodles
The Background: There's something about Mr. Noodles. You just trust his opinion. When I met up with Alice and Cara at Chili Cool earlier this year, we followed Mr. Noodles' ordering advice pretty much exactly and had a fanstastic, gut-busting dinner. So when Mr. Noodles suggested meeting up for lunch, I felt pretty honored, said yes and invited Alice along too.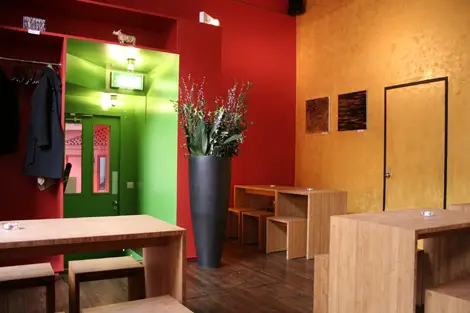 I wanted to try Monsieur M because I had a niggling feeling that it was trying to copy the format of the hugely popular Monsieur Vuong in Berlin, which I visited in September. And oh boy, was I right! When I asked the guy in charge (Owner? Manager? Not sure. The German dude.), he came right out and said it. He liked Monsieur Vuong and thought to bring the concept in London. But totally not in conjunction with Monsieur Vuong at all.
So um…Is that legal? 
Well, regardless of the legalities, here's my initial impression.
Monsieur M looks CHEAP. Flabby. Temporary. Something is just not quite right with the space.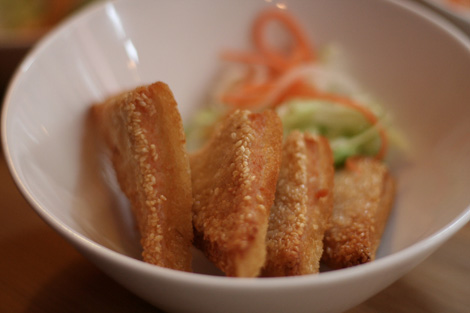 The Food: All that being said, the set lunch is a very good deal. For £10, we get a juice, a starter, and a main. The juices are basically fruit smoothies, which seem to retail these days for £3.50 and upwards. So getting one of these in conjunction with the rest of the menu is a very good deal. I think.
The chicken sesame toasts are drunk food. Greasy in a very satisfying way. A very guilty pleasure.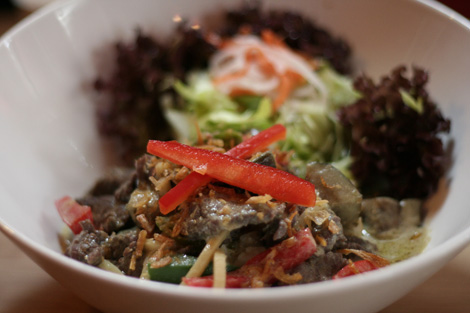 But the beef curry is…suspiciously gray. The meat just doesn't look right, but that might be because of the green curry sauce that it's drenched in. Alice and I discussed how the curry did actually have a kick to it, as opposed to some places in London that seem to deaden their food for our Western taste buds. But I also remember thinking…
this just isn't very good.
I don't know if it was the beef or the peppers or the combination of the rest of the ingredients or what. I just was not feeling compelled, and I left more than half my meal there, which is always a bad sign with me. 
The Verdict: Not convinced. And kinda weirded out with the copying thing.