Posted by Krista on December 14, 2009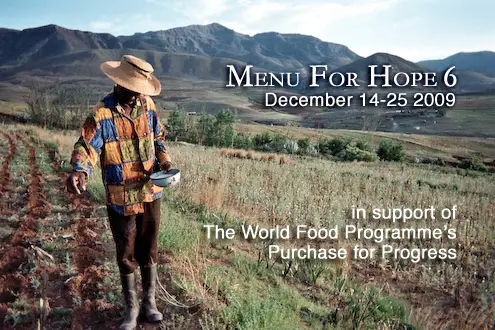 Yes, it's that time of year again! Today marks the launch of Menu for Hope 6, in support of the World Food Programme's Purchase for Progress. I've donated a Gourmet Tour of London to Menu for Hope 6 and the code is EU18.
During my Gouurmet Tour of London for Menu for Hope VI, I will be pleased to take you up to three of your friends on your own private and customized gourmet tour of London. The agenda and neighborhoods will be tailored to your interests (and favorite foods), but imagine experiencing a traditional gastropub and some real ale, some of London's best curry, perhaps a patisserie or two, some oysters, great local sparkling wine, and more. (In a non-indigestion-inducing order, of course!) Duration three to four hours. Weekends preferred, and bring comfortable shoes! Tour must be taken by December 31, 2010. (Item EU18.)
For the full raffle item list organized by theme, go to this post.
For the donation form and our spiffy bid selector tool, go here.
What is Menu for Hope?
Menu for Hope is an annual fundraising campaign hosted by Chez Pim and a revolving group of food bloggers around the world.  Five years ago, the devastating tsunami in Southeast Asia inspired Pim to find a way to help, and the very first Menu for Hope was born. The campaign has since become a yearly affair. For the past three years, Menu for Hope raised nearly a quarter of million dollars in support of the good work of the UN World Food Programme, helping to feed hungry people worldwide.
Each December, food bloggers from all over the world join the campaign by offering a delectable array of food-related prizes for the Menu for Hope raffle. Anyone – and that means you too – can buy raffle tickets to bid on these prizes. For every $10 donated, you earn one virtual raffle ticket to bid on a prize of their choice. At the end of the two-week campaign, the raffle tickets are drawn and the results announced on Chez Pim.
When will this year's campaign take place?
December 14 through Christmas. 
Who is the beneficiary of this year's campaign?
Once again we've chosen to work with the UN World Food Programme.WFP is the world's largest food aid agency, working with over 1,000 other organizations in over 75 countries. In addition to providing food, the World Food Program helps hungry people to become self-reliant so that they escape hunger for good.
This year, we are supporting a new initiative at the WFP called Purchase for Progress (P4P).  P4P enables smallholder and low-income farmers to supply food to WFP's global operation.  P4P helps farmers improves farming practices and puts more cash directly into their pockets in return for their crops.  This will also help buoy local economy by creating jobs and income locally.  We food bloggers understand the importance of buying locally and supporting our local farms, P4P helps do the same for farmers in low income countries around the world.  More on P4P at http://www.wfp.org/purchase-progress.

Who collects the money?
Certainly not me, not Pim, and not any of the other food bloggers participating in the campaign. We know our readers trust us, but we also want to be completely transparent in our fundraising. So, we use a very good online fundraising company called FirstGiving, who has worked with us since the first Menu for Hope years ago.
Donors can make an online (tax deductible) donation with a credit card. FirstGiving collects and processes the payments and, at the end of the campaign, transfers the donations in one lump sum to the WFP. This is a win-win situation for all parties involved. The bloggers never touch the money. The WFP don't waste overheads on processing mini-donations, the majority of which were between $10-$50, that's a whole lot of tennersto make up $90K.  Firstgiving does all the work and collects a small fee, which include the credit card processing charges.
Last year, FirstGiving gave back 1% of the total amount raised in lieu of a discount on their processing fee. Thank you FirstGiving, we appreciated it very much!
Visit Chez Pim on Monday December 14 when the campaign goes online. You can browse our amazing array of prizes by type, or find a prize near you by searching by region. Bid on as many prizes as you'd like. Buy raffle tickets as holiday gifts to your loved ones. Just come back and check us out on December 10. Help us help the WFP end world hunger.