Posted by Krista on November 17, 2009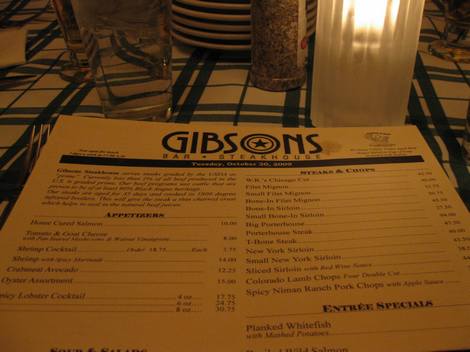 Gibsons
1028 North Rush Street
Chicago, IL 60611
United States
Date of Last Visit: Tuesday, October 20th, 2009
The Victims: Renee, Julie, Steve, Donna
The Damage: $70 each?
The Background: Regular readers of this blog will know that I'm not a steak-eater. I don't die over it. Part of this is because I just naturally opt for fish or fowl. But the other part is because this one time (not in band camp), I had the best steak ever. At Morton's. In Chicago. A NY Strip. Perfectly charred on the outside. Beautifully medium rare on the inside. After that, everything else was just…meat.
So since moving to London, I've had steak at The Marquess. I've had steak at Hawksmoor. And I've had steak at Goodman. They were all good. (Hawksmoor better than good.) But none engendered that swooning sensation I'd experienced at Morton's.
I thought about this a lot while I sliced into my NY Strip at Goodman back a few months ago. It was a pretty good steak. But I wasn't like DYING over it or anything. (I saved that for the cheesecake.) So I had to wonder…was it absence making the heart grow fonder? Or were Chicago steaks just THAT much better?
Luckily, I had to go to Chicago for work. So there was an excuse to test things out.
The Entrance: Renee is on crutches. I have the mother of all colds. This is going to be a good night. We are bang on time and are shown our table, which is very convenient to the entrance so Renee doesn't have to hobble too much.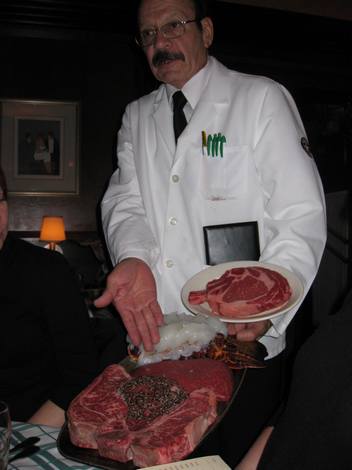 The Service: Our server is polite and jovial. He knows the menu inside and out. We had our order placed by 7:05 p.m., that's how efficient and persuasive he was. We skip starters so we can save room for all our steak. How much do you love the display of raw meat?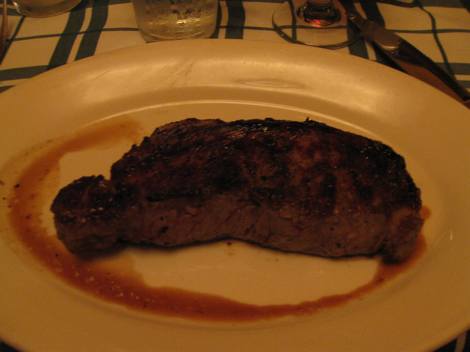 The Food: It arrives at 7:20. I'm serious. "We're going to be out of here by 8 p.m. at this rate," I think. And you should know that I AM psychic.
NY Strips nearly all around, but there are also a couple of bone-in sirloins. I slice into my NY Strip–which is not nearly as elegant-looking as my Goodman steak–and take a bit and think…."Yes." This…this is what I've been missing. This is a great steak…charred and dark on the outside…perfectly medium rare on the inside. It's been seasoned…some might argue seasoned to death. That is its only fault. Memory-wise, I'm swept away by the entire experience; it's a real Chicago moment. My fellow diners are that hearty Midwestern sort. Loud. Boisterous. Decent, hard-working people. (Despite the fact that we are, after all, in the Viagra triangle.) It's a Tuesday, you know.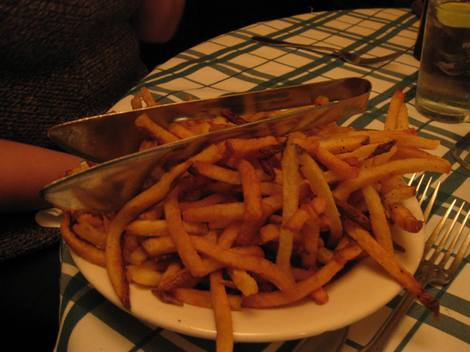 Sadly, one of the big disappointments of the evening were the fries. They were dry. And totally unseasoned. Bland. Boring. Cardboard-like. Salt did not help…for whatever reason, the salt wouldn't stick to the skin. So sad.
The Other Big Disappointment: OK, and here's where the European in me says, "WHAT?"
We got our bill at something like 7:50 p.m.
Yes, we were out the door by 8 p.m. This was with a 7 p.m. reservation. (God bless America and dining early, particularly when you are dying from jetlag.) OK, I know we didn't have starters or dessert. But this felt like fast-food! What happened to lingering? The conversation? There was no time.
The Verdict: Go. But go early. Or late. Not in between. And go ahead and order that starter. And that dessert. It will make things last longer.