Posted by Krista on September 14, 2009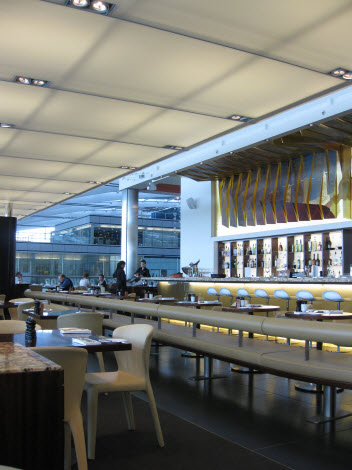 Plane Food
Wellington Road
Heathrow Airport
Hounslow TW6 2GA
Date of Last Visit: Saturday, September 5, 2009
The Victim: Me
The Damage: £20ish
The Background: I'm late. I'm never late. I had planned on a leisurely lunch at Plane Food before making my way to Berlin. But my own dilly-dallying plus London's public transportation system gets me to the airport about 1 hours and 15 minutes before my flight. This is going to be quick.
Luckily, Plane Food is (like, totally) the first thing you see on the other side of T5′s security. (Assuming you're not one of those Fast Track types.) I head straight in and am seated immediately. It takes a while for a menu to arrive, however. And there are lots of empty tables, and they seat me, the solo diner, in the midst of all the full ones. Geez now don't I feel conspicuous…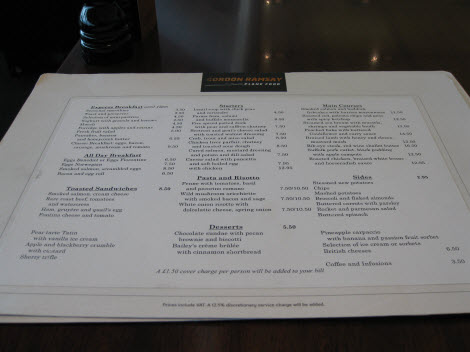 They hand me the menu and IT'S DIRTY. Lots of grubby travelers have put their grubby paws all over it. And it's a large menu. This surprises me. I expected Gordon to scale things back. But no…here, there's lots of choice.
There's also–if you look at that photo closely–a mandatory £1.50 COVER CHARGE. We're in freakin' Heathrow. Not Kabaret Prophesy. WTF?
The Food: I order the salmon fishcakes. They continue to seat people around me. They bring me the bread basket a couple of times. It's good. I like the brown bread. Also, the wine list is very nice. Quite a good variety of grapes and regions. The best wine list I've ever seen in a Flughafen, actually.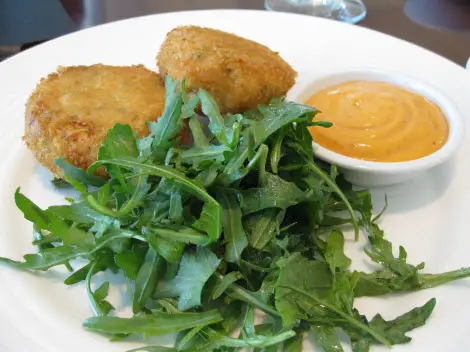 So…there, above, are my salmon and haddock fishcakes, with harissa mayonnaise. And you know what? They're GREAT. I'm really surprised by this. They're really light, although they're packed full of dense fish. Whoever is running the deep fryer knows what he's doing. (Sorry, I spent way too many hours as a teenager working around a commercial deep fryer.) Really…the breading could easily have been a soggy mess or a brown and overly crispy mess. It's neither. And the harissa mayonnaise is fantastic. Tangy, but spicy.
The Service: A little random. Nice, but it felt like fast food service.
I Appreciated…The Departures board.
The Verdict: Yes, I would go back here again. And I would have the fishcakes again. Honestly, surprisingly–and deliciously–good. I might bring some Purell though.