Posted by Krista on July 25, 2009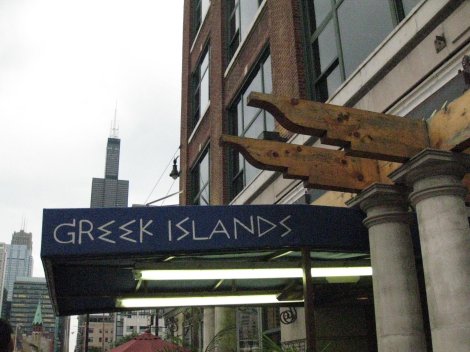 Greek Islands
200 S Halsted St
Chicago, IL
Date of Last Visit: Saturday, July 24th, 2009
The Victims: Many. Some of you will recognize that I was in the presence of the Web's food blogger glitterati: Lydia from The Perfect Pantry, Kalyn from Kalyn's Kitchen, Elise from Simply Recipes, Kathy from Panini Happy, Kristen from Dine and Dish, Maris from n Good Taste, Cora from Cora Cooks, Deb from Lunch in a Box, Gudrun from Kitchen Gadget Girl, Jennifer from Savor the Thyme, Ree from Pioneer Woman Cooks, Jaden from Steamy Kitchen, Sandie from Inn Cuisine, Alanna from A Veggie Venture, Sara from Ms. Adventures in Italy, Kelly from Barbaric Gulp, Stephanie from Iron Stef, Stephanie from A Year of Crockpotting, Anne Marie from This Mama Cooks, Hetal and Anuja from Show Me the Curry, Roni from Green Lite Bites, Jayne from This Week for Dinner, and Kim (and Roger) from the Building Blocks Show.
The Damage: $40 with one glass of wine.
The Background: I'm in Chicago for BlogHer, the blogging conference for female bloggers. I went last year too and really enjoyed it, but I was super-excited to return in 2009 to BlogHer in Chicago–a city I lived in for eight years before moving to London in 2004. (Registration is already open for next year in New York!.) Sara was able to swing me an invite to the food bloggers dinner, which was a great night out with a great group of ladies. (And hey, that's the building formerly known as The Sears Tower in the background above.)
The Entrance: Lydia from The Perfect Pantry is our hostess with the mostess for the evening. In super-organized style, she hooks us all up with products from The Spice House and then sends us off in groups of four to meet at the restaurant, located in Chicago's Greek Town. After a short wait, our party of 20-ish food bloggers is shown to our tables.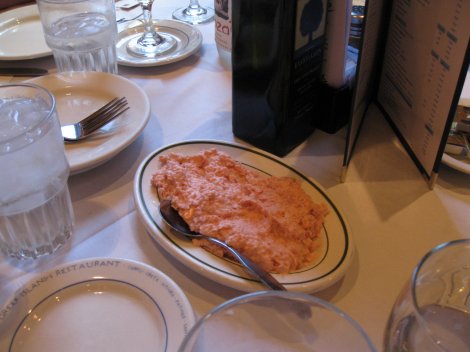 The Starters: Only one of my absolute favorite things: tarmasalata. This is just about right, although probably not as finger-licking as the tarmasalata I had at The Eagle ages ago with fellow London restaurant bloggers Ben and Howard. It's served with big loafs of bread sprinkled with sesame seeds. (Sesame being one of my other favorite things.) At the table, I talk about my sessions at L'Atelier des Chefs (the French cooking school in London), where although I will never win any prizes for my cooking skills, I do consistently take the prize for "name that dish" and "name that ingredient."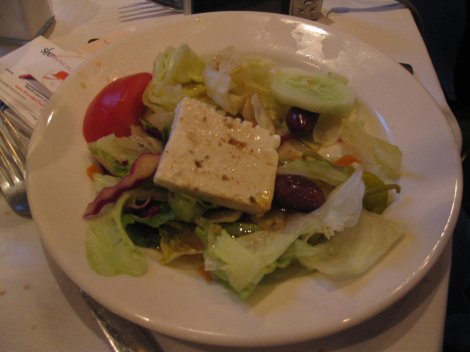 The Salad: A basic Greek salad is up next and although it's won't win any beauty contests, I dig the tangy feta cheese and the zingy dressing. The olives are good too. After nine days on the road where vegetables have been few and far between, I'm very happy to be eating a salad.
The Mains: Our gruff and slightly grumpy servers dish up Greek rice (white rice with a tomato-y sauce), meatballs, plates of chicken, and thinly sliced lamb. I like the lamb the best, served with its cucumber dressing. All of this is washed down with–somewhat oddly but yet strangely perfect–sake, brought along by one of our members. (Please let me know who so I can give proper credit!)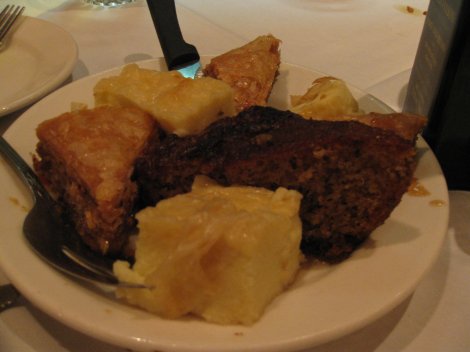 The Desserts: Walnut cake and baklava and a host of other tidbits are dropped on all the tables. The baklava is good, but my heart is still with Green Valley.

The Question: Are restaurant bloggers food bloggers? Am I, perhaps, more a travel blogger than a food blogger? Am I just over-analyzing? (Probably so!)

The Verdict: This was a great night out with a great group of ladies. The tarmasalata and the salad were great; the mains were good. Our set menu came to £30 with tax and tip, so all-in-all, a very good value.