Posted by Krista on May 3, 2009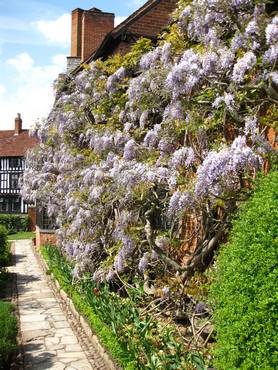 Nash House in Stratford-upon-Avon
I promise my Rome series will come to an end soon and I'll get back to blogging about London restaurants. In the meantime, inspired by
Sam over at Becks & Posh
, here's what I've been up to…
Hanging out at Lunar House in East Croydon, with a break for lunch at Le Cassoulet while waiting for my Indefinite Leave to Remain visa.
Listening to the Fleet Foxes.
Thinking and rethinking buying a flat.
Booking flights to die Schweiz, Barcelona, and Chicago.
Watching Season 1 of Mad Men on DVD. Hooked!
Saying goodbye to Julie over dinner at The Ivy
Celebrating my birthday with Crispy Duck at Crispy Duck in Gerrard Street .
Having drinks and snacks with Rutton and his ladyfriend on the rooftop deck at The East Room.
Getting some Shakespeare in Stratford-upon-Avon with Gerry and Ben, marching with a parade (serendipitously, with British soldiers, newly arrived home from Iraq), and then constructing our own little pub crawl.
Having great margaritas and an okay dinner at Mestizo, the Mexican in Euston, with Gerry and Ben.
Enjoying a nice lie-in on Sunday.
And what I haven't been doing…
Eating carbs.
Writing about The Ivy.
Writing about Crispy Duck.
Running.
And what I need to be doing…

Running.
Taking more photos.
Studying for my WSET exam