Posted by Krista on January 27, 2009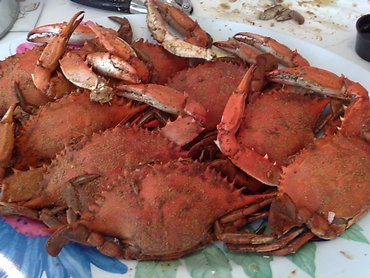 St. Lucie Crab House
327 SE Port St Lucie Blvd
Port St Lucie, FL 34984
http://www.stluciecrabhouse.com
Date of Last Visit: Thursday, December 24th, 2008
The Victim: Uncle George
The Damage: Unknown! Uncle George paid!
The Background: For the last few years, Uncle George and I have spent Christmas Eve (or the day before Christmas Eve) shopping for Christmas presents for Aunt Ursula. This year was no exception, although I have to admit that my creative juices weren't really flowing. Normally, I'm able to summon up a couple of good ideas for gifts that she hasn't asked for. Not this year. I was practically brain dead.
I lost my energy completely in the ladies watches section of Sears around 11:30 a.m. Uncle George took one look at me and said, "Do you like crabs? How about some blue claws?"
And now hey, if that didn't perk me right up.
The Entrance: The St. Lucie Crab House is empty when we enter. It is Christmas Eve though. There probably aren't many people who decide to go out and eat a dozen blue claw crabs on Christmas Eve. Except for me and Uncle George. I let him do the ordering. He's good at it.
The Food: There you have it. One dozen local, South Florida blue-claw crabs. Covered in Old Bay Seasoning. Life would only be better if Otis Redding was playing on the stereo and I had caught the crabs myself. (As I used to do as a kid when I visited Aunt Ursula and Uncle George in Rhode Island. We called it "chicken-necking" because chicken necks are the unsellable bits the butcher will gladly give you and crabs LOVE 'em.)
The Problem: This is messy stuff. Working for your food is hard.
The Verdict: Fun. Probably better for dinner when you have nowhere to be afterwards. Because you know, crabs are messy business. I had to wear a bib.