Posted by Krista on January 29, 2009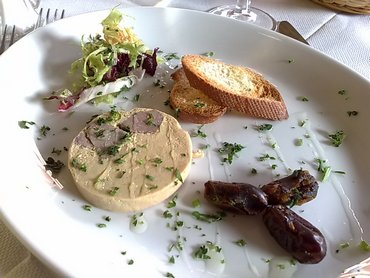 Le Mercury
140a Upper Street
N1 1Q

Date of Last Visit: Monday, December 29th
The Victim: Me
The Damage: Cheap! Like less than £20 with a glass of wine.
The Background: Oh, I am just so very tired. But I've discovered over the years that the only way to recover from the trans-atlantic flight is to soldier through. I've done two loads of laundry and all sorts of errands. So now it's time for lunch.
My original plan was to go someplace central. Somewhere fancy. But I've watched too many movies on the flight over (Virgin Atlantic), and I am dragging.
One night, not so many weeks ago, I was out with the guys from Tipped.co.uk (fantastic social guide to things in London), making pom-poms at The Make Lounge (very cool place for getting crafty). I remember walking home (vaguely, as there was, somewhat surprisingly, a lot of champagne involved in the making of pom-poms) and wandering by Le Mercury. It was all candle-lit and full and gorgeous. Le Mercury by night is lovely.
So with this memory flittering through my sleep-deprived brain, it is to Le Mercury for lunch I go. and this time, it is sunny. Very sunny. And the windows at Le Mercury are large. Perfect.
The Entrance: I have my choice of tables. My waiter seems shy and not French. I don't mind so much.
The Starter: Foie gras with "poached dates." Poached dates, to me, sounds like dates that should be soft and warm. These were hard and cold, harder than any date I've ever ever had. A bit of a bust. But the foie gras was nice. Although the toast portion was paltry.
The Main: Crispy-skinned sea bass with crushed potatoes and minted pesto. It's all very nice. It would be even nicer if I were drinking French wine, but I'm not because I review their wine list and the wines by the glass all seem to come from someplace else. I find this a little bit odd, but it's fine.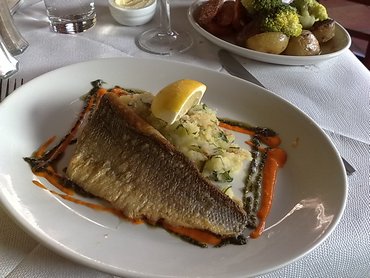 The Verdict: Decent, well-priced food in a nice atmosphere. Too bad about the dates. And the wine.