Posted by Krista on October 24, 2008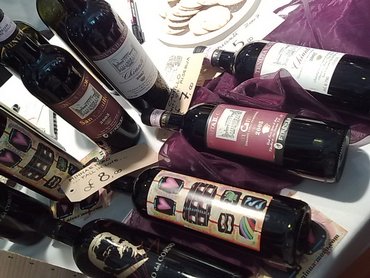 I have mixed feelings about telling you about The Wine Show. Let me caveat this by saying that I feel like crap at the moment–definitely coming down with something–so maybe it was just my general malaise. But then again, the place was so jam-packed in parts, you couldn't move, you couldn't taste any wine, you couldn't anything. And this was just the Preview evening.
By shelling out £25 for tickets instead of the £11 you'll pay the rest of the week, I expected something more. I did get a pork sandwich, which was nice. (But not a £14 pork sandwich.) But I never got the "goodie bag courtesy of ViniPortugal including complimentary miniature
bottle of Tagus Creek wine, a 'pocket connoisseur' tasting booklet and
some fantastic wine offers." (But maybe I just wasn't looking.)
I did enjoy visiting a large booth of Italian wines, where Feathers and I picked up two nice bottles of Chianti for £5 each on the recommendation of the very nice woman working the stand. (That's a photo of some of their wines above.) And then Feathers and I did get a great walk-through of Hungarian whites (although it was really too fast) from the very small Hungarian stand on the upper level.
But all in all, there were just way too many people. And I don't think my preview evening ticket got me anything more special than what you will get through the rest of the weekend. Go at your own risk.
The Wine Show is at the Business Design Centre in Islington this weekend at these times:
Friday 24th – 12.00 – 21.00.
Saturday 25th – 12.00 – 20.00.
Sunday 26th – 12.00 – 17.00.