Posted by Krista on October 1, 2008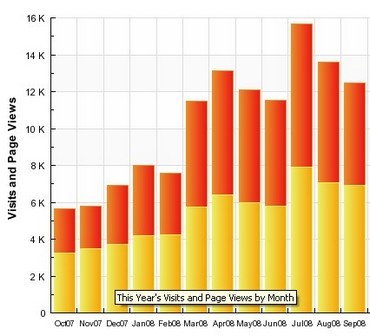 I've yet to find any bloggers who post their stats like I do. I started doing it because Matt Cutts from Google did it. And I thought, "Why not be honest?" You see, in the old days, I used to be "economical with the truth." (A Dutch colleague of mine used to say that a lot. I've always liked it.)
Yes, I was guilty of rounding. A lot. If I got 51 visitors a day, I told people 100. But now I just tell it like it is. And show you pictures too!
September was a good month for my little London restaurant blog. The third best month ever. But not as good as July.
Here were my top five non-Search engine sources of visitors in September:
An American in London
Stonch's Beer Blog
Mmm-yoso
Cheese & Biscuits
Liqurious They picked up my post about wine made of cheese.
Top five sources of blog visitors who are new to me…
Liqurious
Mmm-yoso
Very Good Taste
Cheese & Biscuits
Chowhound
What else happened in September…working backwards…
I ran into Heston Blumenthal and made an ass of myself
I went to cooking school and LIKED it. So much so that I'm going back this Friday.
I had cheese and cheesy wine with Qype and company
I hung out with a ton of food and wine bloggers at a TrustedPlaces meetup at Cantaloupe. It was a bit too dark for photos, but check out Niamh's post over here.
And some other things…you know I'm still testing Nokia viNe. With the fantabulous Nokia N82. I gotta be honest. I'm an enthusiastic beta tester. But it's been a month and they've yet to hook up my username. So I keep snapping away for nothing. Nothing. Sad.
I went on over to the London Bloggers Meetup last night. Very briefly, because I was meeting friends at a restaurant later. Although it was sponsored by Smirnoff, I still convinced them to pour me a Guinness. Just barely.
Hmmm. That's mostly it. What do you have to look forward to in October? Madeira! With my mom and her friends. But that's all I have in the diary so far…