Posted by Krista on January 29, 2008
f t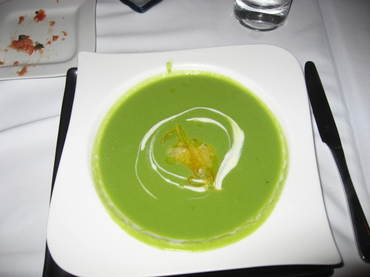 No 5 Cavendish Square
5 Cavendish Square
W1G 0PG
Tel: 020 7079 5000
Date of Last Visit: Saturday, January 20th
The Victims: 13 of them
The Damage: £50ish.
The Background:It is Muna's birthday and we are surprising her with dinner at No 5 Cavendish Square. There are 13 of us and she is floored when she walks in and sees all of us. I lose track of the number of times she says "Thank you guys sooo much" durinng the course of the evening.
Starters: We are off to a strong start. My pea soup is thick and rich and there's a nice little crispy puddle of fried onions and garlic in the middle. Consensus is mixed around the table, however. Sam thinks it needs salt. Muna says it is too rich. I, in my Goldilocks ways, think it is just right.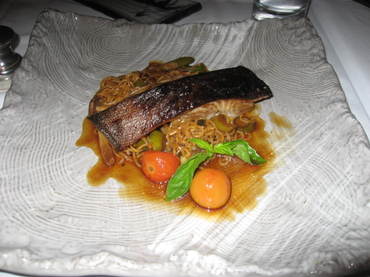 Mains: Ugh. Black cod miso. It just doesn't look right. The fish looks ill. I eat about 1/3 and leave the rest behind. It is served on a bed of salty Asian noodles. Too salty for me. I am disappointed.
Dessert: It looks old. It tastes old. Part of me wonders if they prepared the dessert…a trio of chocolate…at 10 am and left it out all day to serve at 10 p.m.
Service: We are dining with a number of Muslims (obviously so) and Jen and I are abstaining in January. The servers might be trying to be cute about their reactions to the way we continuously decline the wine list, but then they are just annoying. How many times did I have to explain no alcohol? About five times too many. Also, they were not keen on my tap water request and kept foisting bottled water on us. After a few attempts on my part to get tap refills, I gave up. £4.50 a bottle. We drank £18 quid of water. That's disgusting. 
Also, one server kept touching me. She kept putting her hands on my shoulders. I was ready to slap her. I don't often get angry.
Ambiance. Its a cool place. It's like eating in a mansion. A red and gold leaf mansion. There's a club downstairs that was just filling up with pretty young things as we made to depart around midnight. I felt fat.
The After-affects: I texted Julie and Jen the next morning to let them know that I felt ill–hungover, actually–which was odd considering that I hadn't drank anything but water the night before or in the days and weeks before. Jen texted back immediately…oddly enough, she too felt hungover and just told her boyfriend that a few hours earlier. A mild case of food poisoning? (I was fine by 2 p.m.) Interestingly, Jen and I ate completely different things–besides for the bread that was served with something pico-de-gallo-esque.
The Verdict: Yeah, probably not.